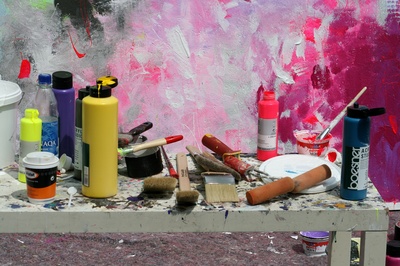 So much to do, so less time :-)
There are so many things I´d like to craft but it is not that simple, if you only have time, after getting kids into bed ... lol
But little by little, the bird build his nest and so do I .
To let you know what plans I do have in my head, I created this "little" list:
Check it out and see how fast I am :-)
( Of course there also will be some "to dos" for the new house :-) But hey, never mind
,I have to craft
them!)
1.
Finishing the "wellcome" sign for the front door
(Photos are on the way)
2.
Painting a picture for the guests-bath
It is the picture with the
blowballs
. There is will be a tutorial!
3.
Create some great "amarican diner" pictures for the kitchen
4.
Create a memoboard for the kitchen
Shame on me, I bought one!
5.
Make a Name-Sign for our Front entry
6.
Build a new dining-table (10 persons at least)
we bought one and it is for about 12 persons!
7. building my own wood - fruit- Bowl.
8.
Renovating my "new"/old little armchair
9. Painting a family tree all over the lower stairwell
10. Getting all the family pictures into nice frames (0/38)
11. Painting a picture for the corridor first floor
The red butterfly picture, because the carpet is red :-)

12. Building a key rack
(Photos coming soon)

13. Painting a picture for the entry
It is the family picture (photos coming soon)

14. Painting the red wall in our sleeping room green
15. Sewing a curtain for the storage in our bedroom
16. Building my working-painting-crafting place
17. Painting the crafting room wall
18. Painting a flower tendril on Lucy-Babys wall with fairys and elves on it
19. Building a new bed for Lucy-Baby
20. Building a removable blackboard for Lucy-Baby
21. Building a "That was you" remember box for Lucy-Baby
22. Create some nice stuff boxes for everybody in family for bathstuff and such things (6/6)
23. Create a "Lisas lounge" sign for the upper stairwell
24.
Create a "such a laugh - god to know" wall all over the upper stairwell
Pictures for that are ready, after we move I´ll hang them on the wall.
25. Create a working, crafting, training room for Hubs and me in the cellar.
26. Build a shelf-system for all my kitchenstuff in cellar II
27. Craft my own Bubble-Collar
28. Knit a vest for me - finish it
29. Build a new holding system for my bracelets
30. Paint a huge blowballs-picture for my mum
.
I gave it to her X-Mas 2012
31. Paint the swing and the slide in crazy colours
32. Renovate my sisters old doll´s house
33. Knit and felt a hat
34. Craft some felt flowers foor frontdoor decoration
35. Sew a cover for my Car-trashback
36.
Building a new Lamp for the living room