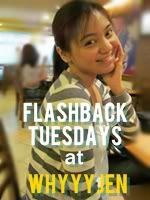 I found this Flashback Tuesday thing on whyyyjen blog and thought this could be fun!
So.... this is my old photo :-)
Nine years ago I was on that kind of Rockabilly style phase :-) Stripes and black paired with flowers and red hair.... it is over :-)
On this photo a played Guitarre Hero with my sister and her Ex.... and I was such a good player of the base guitarre!!!
And now it is your turn - come on give me an old photo :-)