Hi everybody,
I found a nwe linking up-party " wardrobe wednesday" so I post my todays outfit.
Hey, remember, I´m not a model and there is still a little baby-belly under my shirts :-) Ok, after two years you could have lost it, but I did that in stages. only two kilogrammes per year - lol!!!
No kidding, it is not easy to lose them - they are attached to me :-)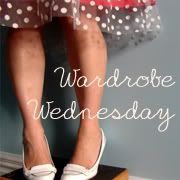 Ah, nearly missed to post pictures of our house on the outside, I just promised that, right? So Baby-Lucy and I are in our garden ( behind the house - hahaha) As you can see it is quite long and we have a swing and a slide in it. In the little hoven we have our summer-tires and some playing stuff vor Baby-Lucy.
our garden with the sandbox, you can see our livin-room and in he first floor our working space and Baby-Lucys room.
Standing on the terrace the garden is that long
Thsi is our entry, as you can see, i´m absolutely in wind chimes! I love them, and happily my neighbours do so too!
Our house, a typical german row house.
hope you have a nice thursday!
Mirja