Hi everyone,
today is wednesday and of course I have to link up with the wardrobe wednesday girls!lol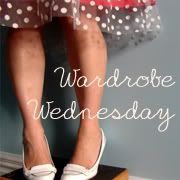 Today I just rummage around my pics and found a little interesting thing - I wear scarfs a lot!
Ok, now it is time for you to laugh, but I didn´t notice that. I know, that I do have a lot of them, but I never thought about the fact, that I also wear them nearly every day :-) hm... I should think about that! :-)
So what do you think about wearing scarfs?
Here I´d like to show you two collages of some scarf-moments I had, even in my pregnancy and on my wedding I wore them - crazy!